Recent Blog Posts
more...
Trending
Ten most searched-for wine names*
1. Dom Perignon

2. Petrus

3. Pin

4. Montrose

5. Cristal

6. Talbot

7. Angelus

8. Belgrave

9. Krug

10. Palmer
*in the last 3 months, courtesy of a very popular search engine
Date posted: October 28, 2010
A fine wine store that is located in Dubai's International Airport's Emirates Terminal 3 recently reported selling just eight bottles of wine for more than $100,000 US. Read full story...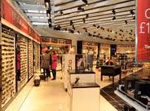 Date posted: October 8, 2010
This autumn will bring with it the release of more than 400 cases of Bien Nacido Vineyards Syrah, Pinot Noir and Chardonnay, marking the first own-label release in the winery's history. Read full story...