While the châteaux of Bordeaux are busy bottling their 2010 vintage, and as we're busy delivering cases of it to our clients, the world's professional wine critics have re-tasted the vintage to give their latest assessments. It seems a propitious moment for a brief roundup of opinion on Bordeaux 2010, just a week or so before the biggest voice of all, Robert Parker Jr., issues his latest scorings in the March issue of The Wine Advocate. Overall, though it now seems safe to say that Bordeaux 2010 is an exceptional vintage.
The 2010 vintage has been touted as a second successive great vintage after the 2009, though the two are very different in style. The earlier vintage is characterised by a fruit-driven, generous palate, while the later vintage is considered classically-styled, well-structured, and outstanding. Neil Martin (of the Wine Advocate stable) has analogised the vintages as Beatles albums: 2009 as 'Sgt. Pepper's Lonely Hearts Club Band' and 2010 as 'The White Album' – that is, both legendary in their own ways.
Martin has been busy publishing in-depth and very favourable assessments of each of the Bordeaux appellations in his Wine Journal section of eRobertParker.com. He has saved particular praise for the wines of Pauillac, granting Latour 2010 a rare 100-point score (comparing it only to those legendary vintages 1982 and the 1961), Lafite Rothschild a 99+ and Mouton Rothschild a 98. Outside the First Growths, Pichon Baron (scored 97) and Pontet-Canet (scored 95) were singled out for praise, with Martin preferring the 2010 vintage of each to the 2009s.*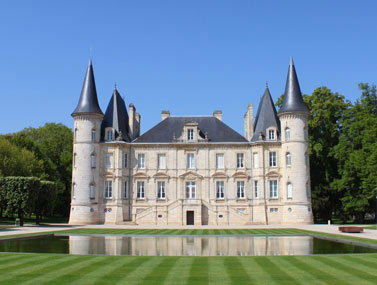 Château Pichon Baron: One of our favourite 'Super Seconds' from 2010.
In recent weeks, James Suckling (previously of Wine Spectator and now operating via his website www.JamesSuckling.com) has called 2010 a 'truly superb' and 'compelling' vintage. Eleven wines were awarded a perfect 100 points on Suckling's rating scale, compared to the nine '100-pointers' in the 2009. Mouton-Rothschild, Le Pin, Latour and, reaffirming its reputation of punching above its weight, Pontet-Canet are among Suckling's 100-point wines of 2010.
Robert Parker's indications so far are positive. In his initial assessment he named it as one of the greatest vintages of his career with ten estates being given potential 100-point scores. In a recent tweet, the man himself noted the vintage was 'as reported – a top vintage', but he's given little else away. Whether his re-scoring this year will lead to movements in price similar to what happened with the 2009 vintage last year remains of course to be seen.
For what it's worth, our tasting of the vintage at the Union des Grands Crus de Bordeaux tasting in Covent Garden last November confirmed in our minds the superb quality of the vintage, even at this early stage: poised and truly delicious. Our opinions, however, do not move the market like Parker's!
*All Copyright The Wine Advocate.