Recent Blog Posts
more...
Trending
Ten most searched-for wine names*
1. Dom Perignon

2. Petrus

3. Pin

4. Montrose

5. Cristal

6. Talbot

7. Angelus

8. Belgrave

9. Krug

10. Palmer
*in the last 3 months, courtesy of a very popular search engine
Date posted: July 10, 2010
France and Chile received the most awards at the recent wine fair, which featured hundreds of wines and tasters from eleven countries. Read full story...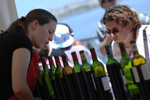 Date posted: July 7, 2010
Despite a level of variance in its reception by critics, merchants say Cos is virtually flying off the shelves at prices that are up more than 230 percent on 2008. Read full story...