Recent Blog Posts
more...
Trending
Ten most searched-for wine names*
1. Dom Perignon

2. Petrus

3. Pin

4. Montrose

5. Cristal

6. Talbot

7. Angelus

8. Belgrave

9. Krug

10. Palmer
*in the last 3 months, courtesy of a very popular search engine
Date posted: September 29, 2010
The Liv-ex 100 index has impressively outperformed many more traditional investment areas in recent years, suggesting once more that trading fine wine may be considered a sound alternative area of capital growth. Read full story...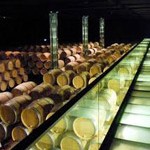 Date posted: February 16, 2010
In August last year, there was a lot of speculation about the quality of the 2009 vintage. Growers claimed that the near perfect weather conditions would result in a vintage that would rival that of 2005, which was hyped as the "vintage of the century." Read full story...