"Entente" is of course from the French, meaning 'mutual understanding' and is often used in terms of military history. It is aptly used, therefore, in a new wine offering from the direct descendants of two opposing Boer War generals under a label called Boer & Brit.
The two Great-Great-Grandsons, Stefan Gerber and Alex Milner met at Stellenbosch University in the early 2000s while both studying winemaking.  Stefan's ancestor was the Afrikaner leader Paul Kruger.  Alex's ancestor was the British General Sir John French.  It wasn't long before they realized that they hailed from opposite sides of the infamous war.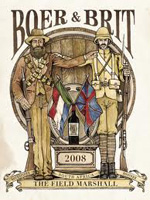 Sir John French (later promoted to Field Marshal) launched a cavalry charge that ended a four-month siege of Kimberly at the turn of the century.  As well as the Transvaal president, Kruger was very much the public face of the Boer resistance.
Despite the bitter history between the two countries, the two descendents have no animosity whatsoever, and the Boer and the Brit on the label refers to them and no one else!  After graduation the two friends created a partnership based at Milner's parents home in Natte Valleij near Stellenbosch.
Grapes are brought in and blended in three different varieties to produce the Gezina (named after Stefan's grandmother), which is a Sauvignon Blanc.  The General is a blend of Malbec, Petit Verdot and Cabernet Franc and The Field Marshal is a blended Shiraz with Mourvedre, Tinta Amarela and Carignan.
The labels showcase the old British and Boer soldier uniforms and sport youthful phrases such as 'The war is over, let's party' and, 'With the body of Boer and the nose of an Englishman – you can't go wrong'.  The two entrepreneurs expect to sell over 30,000 bottles of Boer & Brit, most of which will be exported; including 5,000 bottles to the UK.