While most people associate James Bond with a Vodka Martini (shaken not stirred), the famous spy is also a connoisseur of fine wine.  If Bordeaux proprietor M. Hubert de Bouard has his way, 007 will have a specific claret of choice…
–    The wine list, Mr. Bond?
–    '82 Angelus. Poured, not stored…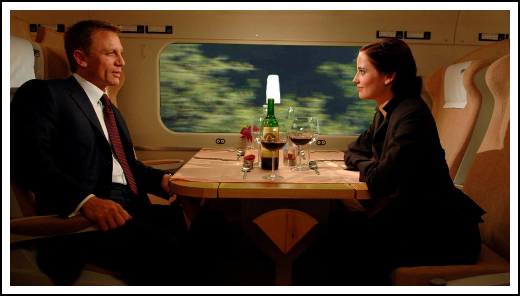 Château Angélus first appeared in the 2006 version of Casino Royale, starring current  Bond incarnation Daniel Craig.  The wine only appeared in the movie for a few seconds but it was during a pivotal scene.  Immediately after the film's release, sales were normal, but after a few months – during which time fans were able to see the film repeatedly, noting all important details, there was a significant bump in sales of the featured vintage – 1982 Angélus.
Barbara Broccoli, legendary Bond producer, had approached M. De Bouard asking to feature the wine in Casino Royale, and they have since entered into negotiations to feature Château Angélus as the preferred Bordeaux in subsequent Bond films as well.  Mr. De Bouard told Decanter.com that he was convinced the Château Angélus would become a staple of the successful Bond franchise.
"James Bond is a connoisseur, which is why I'm glad he drinks the '82 in that scene. Nothing is confirmed yet and we have to finalize the agreement, but I am confident that Angélus will be featured in many future Bond films." de Bouard said.
Unfortunately, with the financial uncertainty surrounding the future of MGM Studios (the current owner of the James Bond franchise) the newest film's release has been delayed.  Originally scheduled to be released in 2011-12 the 23rd Bond film's status and its star claret from Château Angélus is currently still in limbo.
UPDATE: Bond no. 23, as yet still untitled, is set to be directed by Oscar-winning British Director Sam Mendes – another interesting departure for the recently (re-)inventive franchise…
Tags: Château Angélus