In a move that would have come as no surprise to any keen observer, three St Emilion châteaux have launched a legal challenge against the latest Classification of the appellation's vineyards that was announced in September of last year.
As we mentioned in our earlier blog post, Pierre Carle of Château Croque-Michotte had been outspoken in his criticism of the new Classification after it denied his vineyard its desired promotion to Grand Cru Classé status. He has now joined forces with Château La Tour du Pin Figeac and Château Corbin-Michotte in bringing an official complaint before a tribunal in Bordeaux, claiming that they have evidence of errors made during the classification procedure. These errors, claim the châteaux, affected their final ranking and will have an impact on their reputation. Carle even features on a YouTube video to voice some of his objections. You don't have to be fluent in French to get the message as he points out his near-neighbours Cheval Blanc and Petrus, those 'first growths' of the Right Bank.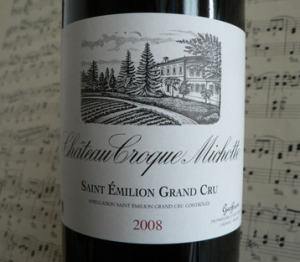 Interestingly, Carle has said he will seek damages should the châteaux be successful in their legal challenge due to the difference in price between classified and non-classified wines. This would perhaps be an odd precedent to set. It would seem bizarre, for instance, for a lesser-known unclassified Pauillac château to sue for not being in the 1855 Classification and thus unable to sell their wine for the same price as Pontet Canet.
It seems though that such challenges are inherent in a system like that of St Emilion which is revised on a regular basis: if it can be contested it will be contested. Perhaps an historical, unmoving (Mouton's elevation to First Growth excepted) classification such as the 1855, where châteaux can work hard to outperform the status granted to their predecessors (and reap kudos as a result, see Lynch-Bages) is a better system after all?