What we all doing over the Jubilee weekend? In addition to attending street parties, braving the rain to watch the Thames flotilla and Tower Bridge raised and grooving to the live music outside the Palace, it seems an awful lot of us were treating ourselves to fizz! English sparkling wines spearheaded bumper wine sales over the Jubilee weekend in the UK, according to provisional figures.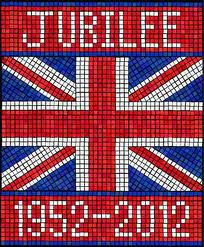 And why not? This was the Diamond Jubilee, a celebration of our Monarch's 60 year reign, and that all things English (well, most of the better things English) had survived post-War austerity to current day and the huge changes that have come over those years, especially in the fields of technology, population change, and the global economy. English vineyards have come on in leaps and bounds, from obscurity through to economic viability and then on to national and international acceptance and then respectability.
Most retailers reported shoppers rush to stock up on wine for the four-day weekend to mark the Queen's Diamond Jubilee, this despite a miserable (and sadly, accurate) weather forecast. Whether driven by patriotism or not,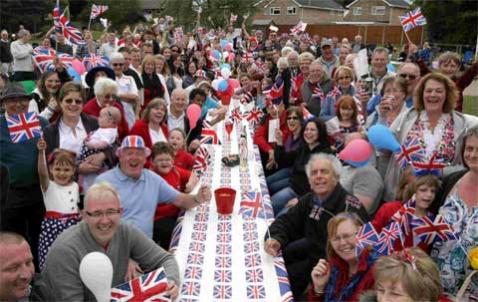 English Sparkling wine, was a standout performer. This was particularly remarkable in that many big stores (including my own) were selling champagne at £10 a bottle- less than half normal price, yet still we preferred our home-grown sparkling wine. Nice!
'It's been the biggest week ever for English fizz with sales 50 times the normal rate,' said Marks & Spencer's trading manager for beers, wines and spirits, Andrew Bird. 'We have sold 50,000 bottles of our exclusive sparkling wines from Ridgeview and Chapel Down wineries,' he said.
Other big retail food and wine stores reported similar runs. Waitrose sales of English wine rose by over 350% and English sparkling wine sales increased five-fold, a company spokesperson said. I wonder if there were any bottles left on the shelves by the end of the celebrations!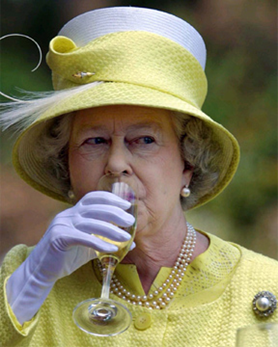 The sparkling wine purchases were actually bigger than in the week before Christmas, the traditional time for us all to go a little fizz-crazy. Of course, as big and as important as the Jubilee celebrations were, there's more to come: With the London 2012 Olympics just round the corner, starting in July, there's more reason to raise a glass or two of sparkling wine. I predict that once again, there will be a wave of pride in everything English, including English wines, as we spur on our men and women to glory and gold (well, maybe with some silver and bronze) in the Olympic and Paralympic events. Maybe even a few bottles will be consumed by die-hard beer drinkers while watching England in the Euro 2012 Football? Who knows?
English wine producers will be hoping that this is no flash-in-the-pan. Those who have bought and tasted the fizz of English vineyards will have realised that the quality and joi-de-vivre of English wines are such that there's no need to wait until the next occasion to enjoy a bottle. Cheers!
I just wonder- did the Queen drink any??